White Lake Houses For Sale and Home Values
City of Lakes 
Welcome to White Lake Charter Township, located in Oakland County Michigan. The 2010 census shows a population of 30,019 in this Charter Township. White Lake Township is an unincorporated village with 2 neighboring unincorporated communities. The communities that make up the township are: East White Lake, Oxbow, and White Lake. There are 21 lakes within the borders of White Lake Township, making this the ideal place for fishing, boating, or a weekendgetaway. If you travel south of the township you'll be less than 20 miles from the city limits of Detroit, and only 10 miles from Pontiac. The township has a land mass of 33.7 square miles and water area of 3.5 square miles. Nearly 10 percent of the township is surrounded by water.
Some History…
Location is everything, and the geography of White Lake Township offered agricultural opportunities for those choosing to settle in the area during the early nineteenth century. Farmers during this time paved the way for today's residents of White Lake Township, helping to build a thriving community into the twenty-first century. To catch a glimpse of pictures from the past you can visit http://www.whitelaketwp.com/pictures.asp.
 Living in a Township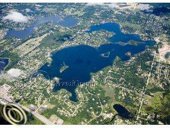 If you're thinking of relocating, perhaps you should consider this: life in a 'township' has its advantages. Thomas Jefferson was the man behind the idea of 'townships' and they were created long before Michigan became a state. Today there are over 1,242 townships in Michigan governing most of the land and serving around 45 percent of its residents.
 Townships are a form of local government that benefits everyone living there. As a resident of White Lake Township you'll have an opportunity to contribute your valuable skills and talents to help make your community a better place for everyone to live.
 Another benefit of living in a township includes township officials living in the same community. Local officials living in your community can see to the changing needs of your thriving town. Everything is done locally, making it easier for you to pay your taxes, vote during election time, or simply ask a question about your property.  Townships put the power right at the hands of the people, giving them the opportunity to be involved in civic affairs.
Education
There are five school districts within the boundaries of the Charter Township of White Lake. To find out more you can visit: http://www.whitelaketwp.com/schools.asp .
Parks and Recreation
White Lake Township offers parks of your choosing. Highland State Recreation Area has a total of 5,903 acres, 1624.51 are located in White Lake Township. Enjoy fishing on the lake or take a hike down a nature trail. You'll have access to horse trails and picnic areas with grills nearby. For those who enjoy adventures in mountain biking there's 16 miles of biking trails offering gorgeous scenery provided by Mother Nature. For a list of all six parks you can visit: http://www.whitelaketwp.com/parks_2.asp.
White Lake Township is also home to Alpine Valley, a popular ski resort that has been in operation since 1961. The resort offers a variety of runs for those who are just starting out, to the more advanced.
Don't forget to visit the Edsel Ford Estate designed by landscape architect Jens Jensen between 1922 and 1935. Located in Haven Hill, the estate has become a historical landmark and a State National Preserve.
White Lake Charter Township offers the opportunity for growth in a town where community involvement is important. Enjoy lakeside communities built on making White Lake a better place to live.
What's My Home Worth?