Troy Houses For Sale and Home Values
Big City Life…Calling Your Name 
Welcome to Troy, Michigan…the 11th largest city in the state of Michigan and the largest city in Oakland County. Troy has a total land mass of 33.47 square miles. With a population of 80,980 (according to the 2010 census) Troy is your business and shopping destination located in the Metro Detroit area. If you like the big city life there's a number of reasons you should consider living in the city of Troy.
Why People Enjoy Living in Troy
Troy was ranked the safest city in Michigan and 19th on the list of safest cities in the nation in 2011. Based on quality of education, housing, and economy; CNN Money ranked Troy as the 22nd 'Best Places to Live' in 2008.  The city of Troy ranks 4th as the most affordable U.S. city. If these reasons aren't enough to capture your interest…keep reading! As one of the most vibrant cities in the state of Michigan, Troy has so much to offer including A+ rated schools, dynamic business and technology center with over 6,000 growing businesses, and some of the best shopping in the entire state. Let's not forget there are over 900 acres of parklands for everyone to enjoy. If you're thinking of relocating Troy is the perfect place to seek new employment and settle down in one of the safest cities in the nation. Troy is a great choice for growing families as well as anyone wanting to start over with a new career.
History
The earliest known purchases of land in what was known as Troy Township at the time were in 1819. Two years later Johnson Niles purchase 160 acres in the area and the settlement became known as Troy Corners. Troy Township became established in 1827 and in 1955 Troy became incorporated to prevent bordering towns from taking more land.
Economy
With over 6,000 growing businesses, Troy has much to offer. From high finance to high tech, over 1,000 people are employed leaving no shortages of jobs. Troy's prime location make it the ideal place to start a new business or expand on your existing one. Retail space includes over 7 million square feet, and 20 million square feet of engineering /manufacturing space make Troy a prime location for career minded individuals. 18 million feet of high-end office space also provide endless employment and business opportunities. They say that 'location' is everything…and they're right. Troy is located in Oakland County on I75 making it the ideal location for new business owners. Major employers attract people from across the nation.
Fu
n things to do In Troy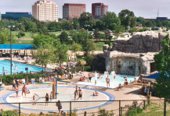 Living in the 11th largest city in Michigan means there's no shortage of fun things to do on any given day. Troy is home to the best recreational programs for children and families in the region. Spend the day at Toy's award winning Community Center. Take a dance class or send your kids to exceptional sports camps. Fitness classes are offered to the public, and there's even a 50+ program so senior citizens can stay active and healthy. Aquatic enters offer indoor and outdoor pools. Don't let the snow stop you from swimming, The Troy Community Center has an indoor pool with programs for kids of all ages. The city of Troy indoor and outdoor aquatic facilities received the award for 'Best of Aquatics' in 2008 from Aquatics international. When warmer weather rolls in your family will love spending the day at Troy Family Aquatic Center.
Visit The Troy Historic Village, an interactive historical museum giving insight to Troy's progression from the first settlers to the booming city it has become today. The village is open to the public year round, and you can take a trip back in time as you observe the ten original structures still intact. The Beaver is the symbol of Troy.  To celebrate Troy's 50th anniversary, in 2005 four foot beavers were displayed in different locations around the city.
Troy wouldn't be complete without public parks where one can enjoy open spaces in wooded areas with lakes and rivers. Enjoy an outing at one of five community parks located in Troy. If you have a skater in the family don't forget to check out Troy's Skate Park. With ten neighborhood parks there's plenty of parks for everyone to enjoy.
The residents of Troy are big on sports. The city of Troy believes in providing quality sports programs for people of all ages. Sports are offered not only for the youth, but there are adult sports as well. Troy was named Michigan's Sportstown in 2003 by Sports Illustrated magazine for having the best community sports programs in the state of Michigan. Troy is an active community offering many organizations for those who wish to be involved.
Senior citizens don't have time to sit around and watch TV, there are many programs for the older crowd so they can remain active during their golden years.
Education
Are you looking for a city with top notch schools? You've won the lottery where education is concerned in this town. Troy is known for having some of the best public schools in Michigan as well as nationally. Troy public schools have a 99 percent graduation rate, with 95 percent of those students attending colleges. Troy as well as Athens High School are on the top 1000 list of high schools in the nation. The Troy School District is home to 13 State Exemplary Schools and has earned six national blue ribbons. There are no shortage of universities located in Troy including Walsh College and Central Michigan University. For more information and a complete list of schools you can log onto: http://en.wikipedia.org/wiki/Troy_School_District_(Michigan) .
Troy isn't your average city, its success wrapped up in the faces of the people who are creating a new tomorrow with visions and dreams that really do come true. Troy… the Big City Life is calling your name!
What's My Home Worth?