Highland Township Houses For Sale and Home Values
The Equestrian Community 
Discover Michigan's first designated equestrian community, Highland Township. You'll appreciate the small town atmosphere of this well preserved rural community. With a population of 19,202, the township is located in Oakland County.  Highland Township has a land mass of 33.6 square miles and a water area if 2.2 
square miles. Six unincorporated communities make up this striking community. Traveling to Milford and Clyde Roads will bring you to Clyde. Platted in 1875, Clyde also has a railroad. Other communities include: Highland, East Highland, West Highland, Hickory Ridge, and Seven Harbors. Approximately ¼ of Highland Townships land is owned by the state of Michigan as part of Highland Recreation Area.
Highland Township offers picturesque scenery with rolling hills, woodlands, and lakes…perfect for quaint vacation cottages or year round homes. This semi-rural area has taken great pride in preserving the open space and natural resources that have helped shape the stunning town it is today. M-59 runs east/west allowing easy access from I-96 and US -23 through most of Oakland and southern Macomb Counties.  Two major regional collector routes running north and south through the township allow traffic flow from the Village of Milford and south of I-96.
If you're wondering what makes this community stand out from all the rest, it's the township's equestrian heritage. The residents have worked hard to preserve the attractiveness of their rural town.  In 2003 Highland officially declared itself as an 'equestrian community'. This was only the beginning as the town began to actively encourage and support its new equestrian identity. Three years later Highland Township was recognized by the state's government as Michigan's very first equestrian community. If you're a horse lover, this is the town for you!
Highland's History
The residents of Highland Township take great pride in their heritage. The township was formed in 1835 by pioneers.  The railroad had a huge impact on the town as it allowed easy export of pickles from the local factories and an inexpensive means to transport lumber.
The town earned its named due to its high elevation which was some of the highest land at that time in the state of Michigan. Before the township was formed in 1835 the first piece of government land was purchased by Naham Curtis in 1832. Over the next few years more settlers made their way to Highland. Some of the first settlers included Armstrong. Adams, Dunham. Leonard, Beach. Lockwood, Stratton, and Tenny families; with many descendants still living in the area today.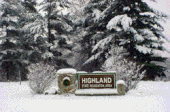 A thriving agricultural community gave way to the recreational use of the townships many lakes as vacationers began to take advantage of the fun lake activities. 
Highland Township is also home to part of the historical Edsel Ford estate of 'Haven Hill" as well as Dodge Brothers State Park No. 10.

Highland Township continues to thrive as new parks and bike paths remain in active development. In 2003 The 80 acre Duck Lake Pines opened offering an array of recreational activities including volleyball, tennis, hockey, softball, basketball, archery, and numerous nature trails. Enjoy a leisurely bike ride along the 4 mile bike path along M-59. Join a softball club or become an active member of the equestrian club.
Education
Highland Township is part of the Huron Valley School District. Huron Valley Schools continue to receive state and national recognition in the academics, athletic, and music programs. For more information you can log onto: http://www.hvs.org/ .
Highland Township-a place where residents are proud to call home, and there's just no better place to live!
What's My Home Worth?